Podcast: Play in new window | Download
Subscribe: Google Podcasts | Spotify | RSS
Following retirement from the FBI as a 29-year "street Agent," I wrote and published a book titled Tenaha: Corruption and Cover-Up in Small Town Texas. The book gives an in-depth look at my experiences in the FBI and takes the reader through an actual investigation.
In July 2021, I was featured on Expedition Unknown on the Discovery Channel in an episode titled "Dillinger's Lost Loot" which highlighted a 1934 Shell Oil company road map I found at the John Dillinger farm in Mooresville, Indiana.
"On September 15, 1963, the congregation of the 16th Street Baptist Church in Birmingham, Alabama greeted each other before the start of Sunday service. In the basement of the church, five young girls, two of them sisters, gathered in the ladies room in their best dresses, happily chatting about the first days of the new school year. It was Youth Day and excitement filled the air, they were going to take part in the Sunday adult service.

Just before 11 o'clock, instead of rising to begin prayers the congregation was knocked to the ground. As a bomb exploded under the steps of the church, they sought safety under the pews and shielded each other from falling debris. In the basement, four little girls were killed—14-year-olds Addie Mae Collins, Denise McNair, Carole Robertson, and 11-year-old Cynthia Wesley. Addie's sister Sarah survived, but lost her right eye.

In the moments after the explosion, questions hung in the air—'Where is my loved one?' 'Are they ok?' 'How much longer can this violence last?' They did not ask if this was an accident, they knew that this was a bomb that had exploded as it had dozens of times before in "Bombingham."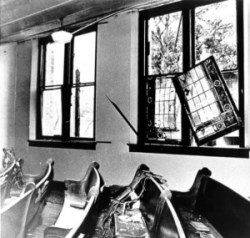 This was one of the most horrific incidents in American history. 27 years after the fact a lead fell on Special Agent Stewart Fillmore's desk. It was for a suspect who was believed to be one of the bombers of the 16th Baptist Church. Find out what happened next on The Jason Wright Show.
Follow me on Insta @jasonwrightnow
Checkout Coaching Courses at jasonwrightnow.com
Subscribe to the Vitruvian Letter at jasonwrightnow.com